Take a tour with Thimbletack, resident and caretaker of the Spiderwick mansion, as he guides you through his scrapbook and personal collection of
Faerie
artifacts. Learn the history of the Spiderwick estate and its former occupants; peruse lost letters that uncover long-hidden secrets; browse through personal items from the Grace kids; and read clips of stories from around the world about other encounters with strange and mythical creatures.
The Chronicles of Spidewick
comes complete with pullouts, pop-ups, foldouts, and more.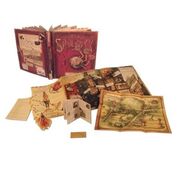 Ad blocker interference detected!
Wikia is a free-to-use site that makes money from advertising. We have a modified experience for viewers using ad blockers

Wikia is not accessible if you've made further modifications. Remove the custom ad blocker rule(s) and the page will load as expected.